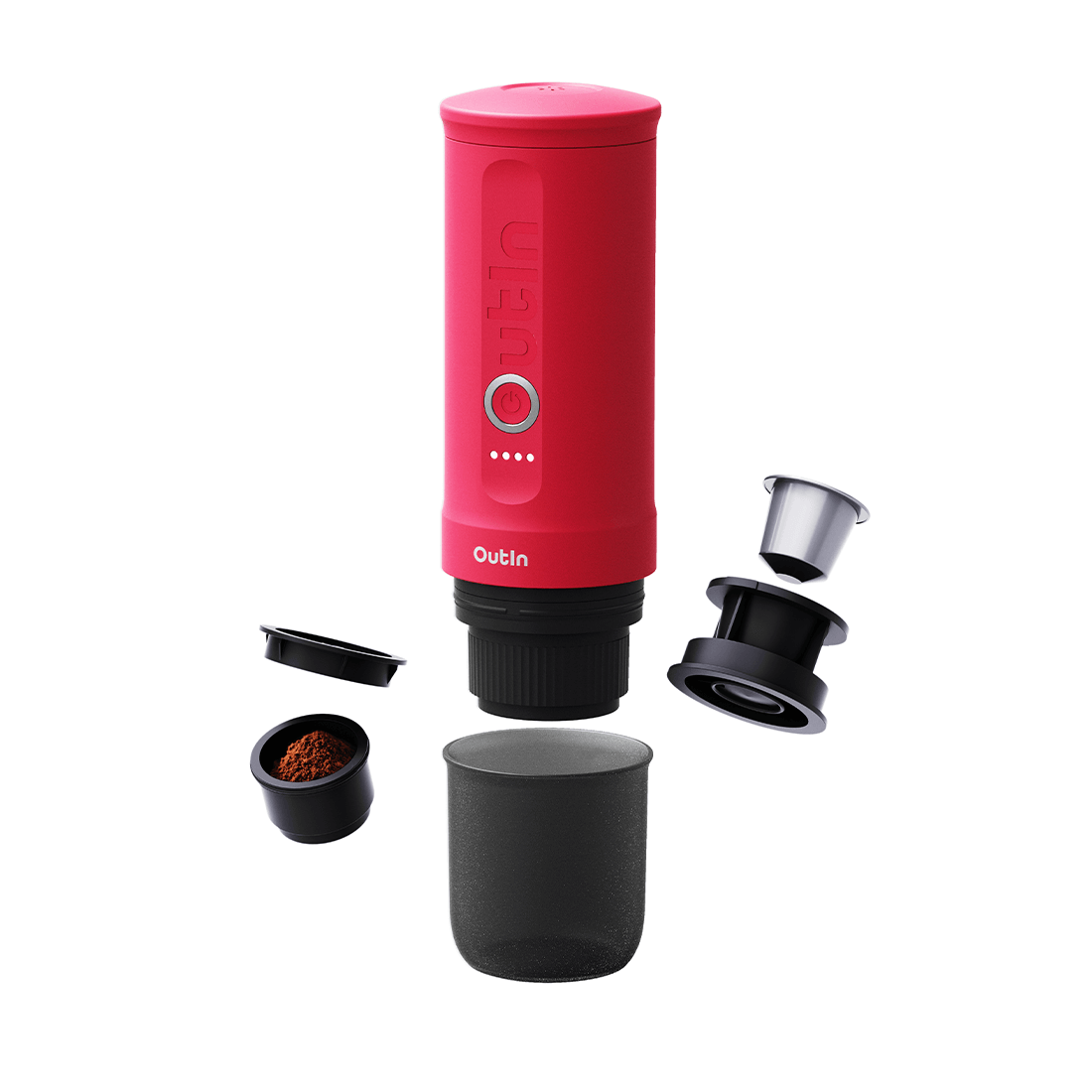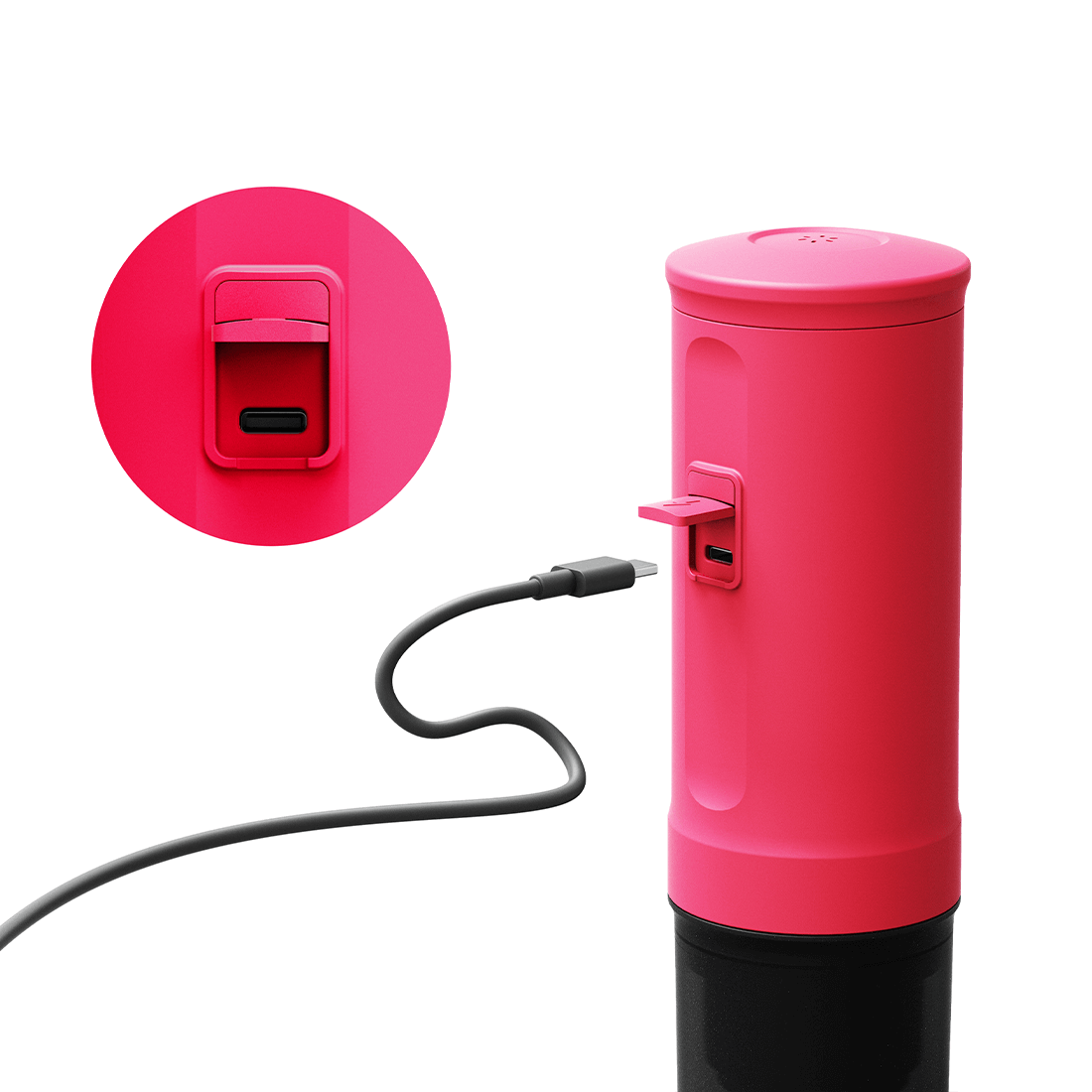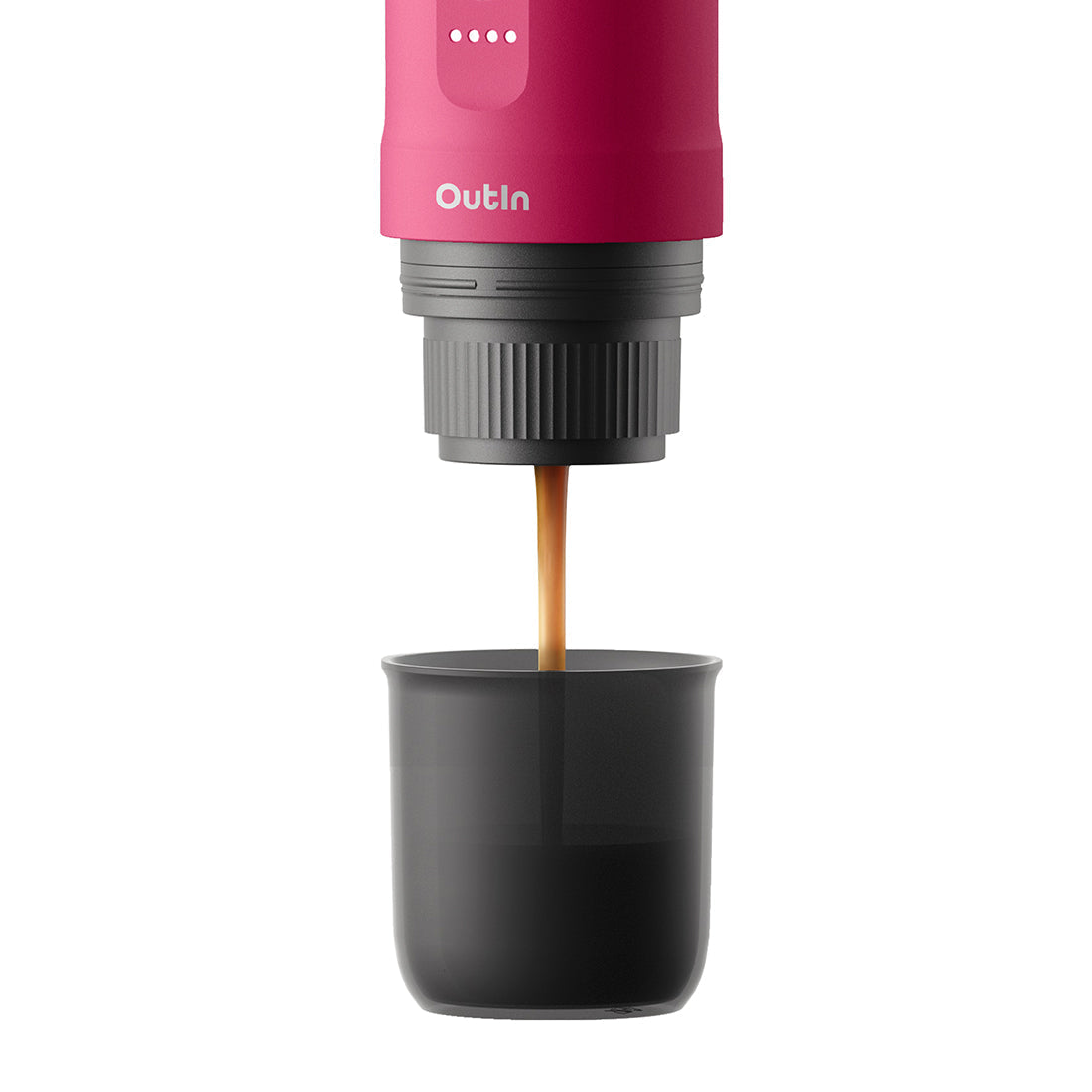 Nano Portable Espresso Machine (Crimson Red)
Light Weight: Weighted Less than 700 g
Fast Heating: Only 180 seconds* to Heat Up
Rich Crema: Up to

92°C/198°F

through 20 Bars Pressure with Richer Crema Coffee
Long Battery Life: 7500 mAh Battery for 5 times* Cold Water / 100+ Hot Water Brews
Pro-level Standards: European Certified Materials & Coffee Brewing Center Standards
Universal Charging: in 

12V or 24V 

Car Charger and USB Charger( >10W)
2 in 1 Coffee Method: Feature with Ground Coffee and Coffee Capsules
COLD WATER CAN MAKE ESPRESSO
Remarkably small but 7500mAh powerful lithium battery, Nano enhance your daily coffee needs. This gold-ratio designed portable espresso brewer upgrades its pumping system, so you simply add either hot or cold water with your favorite capsules or fresh ground coffee to the Nano. Never be limited any water temperature, by day and night or by any location, It just one-tap click to brew exquisite espresso for your coffee time.
Fast Heating
Max Power
NEW FRIEND FOR ESPRESSO LOVERS
Outin Nano is one of the best and most portable travel-sized espresso machines.Enjoy your coffee time at any place with your own pace. Compatible with Nespresso* Original coffee pods, it provides quick heating, perfect extraction, and easy clean-up. With the Nano, every aspect of the brewing time or drinking moment to make yourself with an unforgettable and fun experience!
Share Your Photos With Us To Be Featured
See others shared the experience with NANO. Now it's your turn. #outinnano
This product is rated 4.8 of 5.0 stars.
It has received 24 reviews.
WARMLY REMINDER
You can check it out here anytime
To make a successful espresso, make sure you choose proper grade ground coffee and the portafilter screwed on tightly or the grounds/capsule holder properly installed. And Outin Nano can only be extracted for heating when the power indicator is lit by at least two cells
Please use a 5V/2A or 5V/3A USB wall charger to charge. The machine will not be charged while using a charger below 10W (e.g. the Apple 5W charger).If the power lights flash 5 times and the machine beeps 3 times while using, it indicates the power is too low. Please operate after fully charged.
After tests in Outin factory, our 7500mAh battery heats 50ml of water from 25°C to the extractable temperature (92°C) 5 times after fully charged. However, if water is more than 50ml, heating time and the number of extraction will vary according to your volume.
Have a question ? We are here to help.
Every team member at Outin focuses on the customer's feedback or any voice from them. We are eager to make any improvement on products in order to provide our customers best experience.

Our customer support is available Monday to Friday: 8am-8:30pm.
Average answer time: 24h
Find Answers
General | How much is pressure?

Pressure 20 Bar, works great on creating thick crema and it smelled really yummy. Pour in 50ml of water if you want to make it strong.
General | Does this contain pressurized or nonpressurized filter basket?

It combines the basket and the portafilter. Most non-pressurized portafilters except for bottomless ones cause the espresso to exit from a single hole, so having a single hole does not identify it as a pressurized basket. Other brands also combine the portafilter and basket with a single hole that is not a pressurized basket.
Charge | Does it work with 220v or 240V?

Both 220V and 240V can be charged as long as the charging adapter supports it. Please note that the output voltage of the adapter is at least 5V and the output power is at least 10W.
Delivery Date | Why is the shipping time delayed?

General shipping time is 7-10 working days.However, due to force majeure factors (natural disasters, weather) and other reasons, logistics customs clearance will be delayed by 2-3 working days. We're sorry about that. If you have any questions, please feel free to contact our customer service: support@outin.com

Our customer support is available Monday to Friday: 8am-8:30pm.
Average answer time: 24h
Find Answers